ST公司的stm32L562QE是超低功耗微控制器,基于高性能Arm® Cortex®-M33 32位RISC核,工作频率高达110MHz. Cortex®-M33核具有单精度浮点单元(FPU),支持所有的Arm®单精度数据处理指令和所有的数据类型.Cortex®-M33核还能实现全套的DSP指令和存储器保护单元(MPU),从而增强了应用安全性.器件嵌入了高速存储器(512KB闪存和256KB SRAM),用于静态存储器的灵活外接存储器控制器(FSMC), Octo-SPI闪存接口,一个广泛的增强I/O和连接到两个APB总线的外设,两个AHB总线和一个32位多个AHB总线矩阵.STM32L562xx器件还嵌入了用于嵌入闪存和SRAM的保护机制如读出保护,写保护,安全和隐藏保护区域.器件还嵌入了几个外设以增强安全性如一个AES协处理器,公众金钥加速器(PKA),抗DPA,一个用于Octo-SPI外接存储器的即时解密引擎,一个HASH硬件加速计和一个真随机号码发生器.此外,器件还提供高档通信接口包括四个I2C,三个SPI,两个USART,两个UART和一个低功耗UART,两个SAI,一个SDMMC,一个FDCAN,USB器件FS,USB Type-C / USB供电控制器.主要用在表计,健康(人或机器)监测,移动销售终端以及工业物联网(IoT)等应用领主.本文介绍了STM32L562QE主要特性,框图,多种系列产品电源概述图和时钟树图,开发板STM32L562E-DK Discovery kit主要特性,硬件框图,电路图和材料清单以及PCB设计图.

The STM32L562xx devices are an ultra-low-power microcontrollers family (STM32L5 Series) based on the high-performance Arm® Cortex®-M33 32-bit RISC core. They operate at a frequency of up to 110 MHz.

The Cortex®-M33 core features a single-precision floating-point unit (FPU), which supports all the Arm® single-precision data-processing instructions and all the data types. The Cortex®-M33 core also implements a full set of DSP (digital signal processing) instructions and a memory protection unit (MPU) which enhances the application's security.

These devices embed high-speed memories (512 Kbytes of Flash memory and 256 Kbytes of SRAM), a flexible external memory controller (FSMC) for static memories (for devices with packages of 100 pins and more), an Octo-SPI Flash memories interface (available on all packages) and an extensive range of enhanced I/Os and peripherals connected to two APB buses, two AHB buses and a 32-bit multi-AHB bus matrix.

The STM32L5 Series devices offer security foundation compliant with the trusted based security architecture (TBSA) requirements from Arm. They embed the necessary security features to implement a secure boot, secure data storage, secure firmware installation and secure firmware upgrade. Flexible life cycle is managed thanks to multiple levels of readout protection. Firmware hardware isolation is supported thanks to securable peripherals, memories and I/Os, and also to the possibility to configure the peripherals and memories as "privilege".

The STM32L562xx devices embed several protection mechanisms for embedded Flash memory and SRAM: readout protection, write protection, secure and hidden protection areas.

The STM32L562xx devices embed several peripherals reinforcing security:
- One AES coprocessor
- One public key accelerator (PKA), DPA resistant
- One on-the-fly decryption engine for Octo-SPI external memories
- One HASH hardware accelerator
- One true random number generator
The STM32L5 Series devices offer active tamper detection and protection against transient and environmental perturbation attacks thanks to several internal monitoring which generate secret data erase in case of attack. This helps to fit the PCI requirements for point of sales applications. These devices offer two fast 12-bit ADC (5 Msps), two comparators, two operational amplifiers, two DAC channels, an internal voltage reference buffer, a low-power RTC, two general-purpose 32-bit timer, two 16-bit PWM timers dedicated to motor control, seven general-purpose 16-bit timers, and two 16-bit low-power timers. The devices support four digital filters for external sigma delta modulators (DFSDM). In addition, up to 22 capacitive sensing channels are available.
STM32L5 Series also feature standard and advanced communication interfaces such as:
- Four I2Cs
- Three SPIs
- Three USARTs, two UARTs and one low-power UART
- Two SAIs
- One SDMMC
- One FDCAN
- USB device FS
- USB Type-C / USB power delivery controller
The STM32L562xx devices embed an AES, PKA and OTFDEC hardware accelerator.
The devices operate in the -40 to +85℃ (+105℃ junction) and -40 to +125℃ (+130℃ junction) temperature ranges from a 1.71 to 3.6 V power supply. A comprehensive set of power-saving modes allows the design of low-power applications.
Some independent power supplies are supported like an analog independent supply input for ADC, DAC, OPAMPs and comparators, a 3.3 V dedicated supply input for USB and up to 14 I/Os, which can be supplied independently down to 1.08 V. A VBAT input allows to backup the RTC and backup the registers.
The STM32L562xx devices offer seven packages from 48-pin to 144-pin.

STM32L562QE主要特性:

• 1.71 V to 3.6 V power supply
• -40℃ to 85/125℃ temperature range
•Batch acquisition mode (BAM)
•187 nA in VBAT mode: supply for RTC and 32x32-bit backup registers
•17 nA Shutdown mode (5 wakeup pins)
•108 nA Standby mode (5 wakeup pins)
•222 nA Standby mode with RTC
•3.16 μA Stop 2 with RTC
•106 μA/MHz Run mode (LDO mode)
•62 μA/MHz Run mode @ 3 V (SMPS step-down converter mode)
•5 μs wakeup from Stop mode
•Brownout reset (BOR) in all modes except Shutdown
Core
•Arm®32-bit Cortex®-M33 CPU with TrustZone®and FPU ART Accelerator
•8-Kbyte instruction cache allowing 0-wait-state execution from Flash memory and external memories; frequency up to 110 MHz, MPU, 165 DMIPS and DSP instructions Performance benckmark
•1.5 DMIPS/MHz (Drystone 2.1)
•442 CoreMark®(4.02 CoreMark®/MHz)
Energy benchmark
•370 ULPMark-CP®score
•54 ULPMark-PP®score
•27400 SecureMark-TLS®score
Memories
• Up to 512-Kbyte Flash, two banks read-while-write
• 256 Kbytes of SRAM including 64 Kbytes with hardware parity check
• External memory interface supporting SRAM, PSRAM, NOR, NAND and FRAM memories
• OCTOSPI memory interface
Security
• Arm® TrustZone® and securable I/Os, memories and peripherals
• Flexible life cycle scheme with RDP (readout protection)
• Root of trust thanks to unique boot entry and hide protection area (HDP)
• SFI (secure firmware installation) thanks to embedded RSS (root secure services)
• Secure firmware upgrade support with TF-M
• AES coprocessor
• Public key accelerator
• On-the-fly decryption of Octo-SPI external memories
• HASH hardware accelerator
• Active tamper and protection against temperature, voltage and frequency attacks
• True random number generator NIST SP800- 90B compliant
• 96-bit unique ID
• 512-byte OTP (one-time programmable) for user data
General-purpose input/outputs
• Up to 114 fast I/Os with interrupt capability most 5 V-tolerant and up to 14 I/Os with independent supply down to 1.08 V
Power management
• Embedded regulator (LDO) with three configurable range output to supply the digital circuitry • Embedded SMPS step-down converter
• External SMPS support
Clock management
• 4 to 48 MHz crystal oscillator
• 32 kHz crystal oscillator for RTC (LSE)
• Internal 16 MHz factory-trimmed RC (±1%)
•Internal low-power 32 kHz RC (±5%)
•Internal multispeed 100 kHz to 48 MHz oscillator, auto-trimmed by LSE (better than ±0.25% accuracy)
•Internal 48 MHz with clock recovery
•3 PLLs for system clock, USB, audio, ADC
Up to 16 timers and 2 watchdogs
•16x timers: 2 x 16-bit advanced motor-control, 2 x 32-bit and 5 x 16-bit general purpose, 2x 16-bit basic, 3x low-power 16-bit timers (available in Stop mode), 2x watchdogs, 2x SysTick timer
•RTC with hardware calendar, alarms and calibration
Up to 19 communication peripherals
• 1x USB Type-C™/ USB power delivery controller
• 1x USB 2.0 full-speed crystal less solution, LPM and BCD
• 2x SAIs (serial audio interface)
• 4x I2C FM+(1 Mbit/s), SMBus/PMBus™
• 6x USARTs (ISO 7816, LIN, IrDA, modem)
• 3x SPIs (7x SPIs with USART and OCTOSPI in SPI mode)
• 1x FDCAN controller
• 1x SDMMC interface
2 DMA controllers
• 14 DMA channels
Up to 22 capacitive sensing channels
• Support touch key, linear and rotary touch sensors
Rich analog peripherals (independent supply)
• 2x 12-bit ADC 5 Msps, up to 16-bit with hardware oversampling, 200 μA/Msps
•2x 12-bit DAC outputs, low-power sample and hold
•2x operational amplifiers with built-in PGA
•2x ultra-low-power comparators
•4x digital filters for sigma delta modulator
CRC calculation unit Debug
•Development support: serial wire debug (SWD), JTAG, Embedded Trace Macrocell™(ETM)


图1.STM32L562QE框图


图2.STM32L562xx电源概述图


图3.STM32L562xxxxP电源概述图


图4.STM32L562xxxxQ电源概述图


图5.STM32L562xx时钟树图

开发板STM32L562E-DK Discovery kit

The STM32L562E-DK Discovery kit is designed as a complete demonstration and development platform for STMicroelectronics Arm® Cortex®-M33 core-based STM32L562QEI6QU microcontroller with TrustZone®. It features 256 Kbytes of internal SRAM and 512 Kbytes of internal Flash memory, one flexible memory controller (FMC) interface, one Octo-SPI memory interface, one LCD-TFT controller, one RTC, up to 16 timers, one USB Type-C™ device FS port with UCPD controller, two SAI ports, four I²C buses, six USART ports, three SPI, one CAN-FD port, one SDMMC interface, 2x 12-bit ADC, 2x 12-bit DAC, 2 low-power comparators, 4 digital filters for sigma-delta modulation, touch-sensing capability, an embedded step down converter, and JTAG and ETM debugging support.

STM32L562E-DK, shown in Figure 1, associated with the fan-out expansion board, is used as a reference design for user application development, although it is not considered as the final application.

The full range of hardware features on the board helps the user to evaluate all the peripherals (USB, USART, digital microphones, ADC and DAC, TFT LCD, Octo-SPI Flash memory device, microSD™ card, audio codec, joystick, user button, Bluetooth® Low Energy, accelerometer and gyroscope) and to develop applications. Extension headers allow easy connection of a daughterboard or wrapping board for a specific application.

An STLINK-V3E is integrated on the board, as embedded in-circuit debugger and programmer for the STM32 MCU and the USB Virtual COM port bridge.


图6.开发板STM32L562E-DK Discovery kit外形图(顶视图)

开发板STM32L562E-DK Discovery kit主要特性:

• STM32L562QEI6QU microcontroller featuring 512 Kbytes of Flash memory and 256 Kbytes of SRAM in BGA132 package
• 1.54" 240 × 240 pixel-262K color TFT LCD module with parallel interface and touch-control panel
•USB Type-C™ Sink device FS
• On-board energy meter: 300 nA to 150 mA measurement range with a dedicated USB interface
• SAI Audio CODEC
• MEMS digital microphones
• 512-Mbit Octal-SPI Flash memory
• Bluetooth® V4.1 Low Energy module
• iNEMO 3D accelerometer and 3D gyroscope
• 2 user LEDs
• User and reset push-buttons
• Board connectors:
– USB Type-C™
– microSD™ card
– Stereo headset jack including analog microphone input
– JTAG debugger
– DPM dynamic-power measurement interface for external device
– STMod+ expansion connector with fan-out expansion board for Wi‑Fi®, Grove and mikroBUS™ compatible connectors
– Pmod™ expansion connector
– Audio MEMS daughterboard expansion connector
– ARDUINO® Uno V3 expansion connector
• Flexible power-supply options: ST-LINK, USB VBUS or external sources
• On-board STLINK-V3E debugger/programmer with USB re-enumeration capability: mass storage, Virtual COM port, and debug port
• Comprehensive free software libraries and examples available with the STM32CubeL5 MCU Package
• Support of a wide choice of Integrated Development Environments (IDEs) including IAR™, Keil®, and STM32CubeIDE


图7.开发板STM32L562E-DK Discovery kit硬件框图


图8.开发板STM32L562E-DK PCB布局图(顶视图)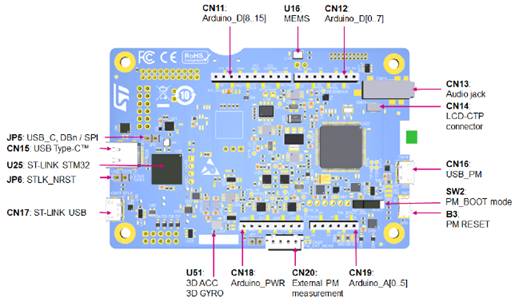 图9.开发板STM32L562E-DK PCB布局图(底视图)


图10.开发板STM32L562E-DK电路图(1)


图11.开发板STM32L562E-DK电路图(2)


图12.开发板STM32L562E-DK电路图(3)


图13.开发板STM32L562E-DK电路图(4)


图14.开发板STM32L562E-DK电路图(5)


图15.开发板STM32L562E-DK电路图(6)


图16.开发板STM32L562E-DK电路图(7)


图17.开发板STM32L562E-DK电路图(8)


图18.开发板STM32L562E-DK电路图(9)


图19.开发板STM32L562E-DK电路图(10)


图20.开发板STM32L562E-DK电路图(11)


图21.开发板STM32L562E-DK电路图(12)


图22.开发板STM32L562E-DK电路图(13)


图23.开发板STM32L562E-DK电路图(14)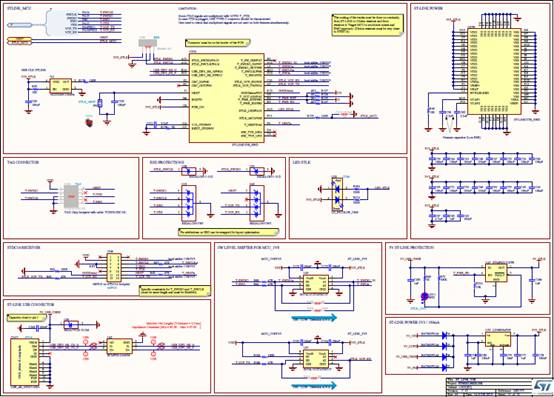 图24.开发板STM32L562E-DK电路图(15)


图25.开发板STM32L562E-DK电路图(16)


图26.开发板STM32L562E-DK电路图(17)


图27.开发板STM32L562E-DK电路图(18)


图28.开发板STM32L562E-DK电路图(19)


图29.开发板STM32L562E-DK电路图(20)


图30.开发板STM32L562E-DK电路图(21)


图31.开发板STM32L562E-DK PCB设计图(1)


图32.开发板STM32L562E-DK PCB设计图(2)
开发板STM32L562E-DK材料清单见:


MB1373-L562QEQ-C01_BOM.xls
详情请见:
https://www.st.com/content/ccc/resource/technical/document/user_manual/group1/5f/45/db/46/d4/f6/41/38/DM00635554
/files/DM00635554.pdf/jcr:content/translations/en.DM00635554.pdf
和https://www.st.com/content/ccc/resource/technical/layouts_and_diagrams/schematic_pack/group1/10/7a/c9/d7/5f/40
/45/04/MB1373-L562QEQ-C01_Schematic/files/MB1373-L562QEQ-C01_Schematic.pdf/jcr:content/translations/en.MB1373-L562QEQ-C01_Schematic.pdf

stm32l562ce.pdf

en.DM00635554.pdf
声明:本网站原创内容,如需转载,请注明出处;本网站转载的内容(文章、图片、视频)等资料版权归原网站所有。如我们采用了您不宜公开的文章或图片,未能及时和您确认,避免给双方造成不必要的经济损失,请电邮联系我们,以便迅速采取适当处理措施;欢迎投稿,邮箱:editors@eccn.com。